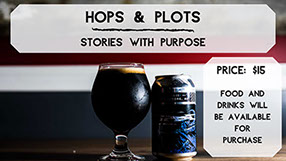 Friday Writing Workshops
w/ Stephen Howard
Friday Oct. 25th
Hops & Plots
90 mins
7-8:30 pm
$15 includes workbook (15 max. participants)
Drinks not included but available from Copper Belt and Barley Browns
Kinzie Steele and Swawm Pass
Nov. 2nd
The contemporary duo Kinzie Steele, from Joseph, started composing original works for the piano & drums in the summer of 2016. They bonded over their passion for expressive, visceral post-jazz and a desire to collaborate on a new genre of music within their community.
"When I Was A Tree", the debut LP from Kinzie Steele, was released in 2018. It was engineered and mixed by Bart Budwig (John Craigie, Shook Twins) and produced by Ben Kirby (Sun Blood Stories) at a remote Oregon farmhouse with 27 goats and a llama. They were selected to play at the prestigious Treefort Music Fest in Boise this year, to rave reviews. The show at the Churchill School in Baker is their final record release performance in E. Oregon. Their album can be streamed at www.kinziesteele.com.
"One of the best albums anyone playing at Treefort has put out in the past twelve months…engrossing, engaging post-jazz compositions which will have jaws on the floor and tears in the eyes." - SSG Music International
"Atmospheric journeys through the lens of modern jazz…A frank success." Dæv Tremblay | Québec | ctebcm.com
Doors open at 6 pm and show at 6:30.
Tickets $8 in advance at Sweet Wife Baking
$10 at the door.
MC Taco Bus and Copper Belt and Barley Browns available for purchase.
2ND SUNDAY TRIVIA NIGHTS
It's Free to register a team just email us or show up in person
Teams can be 2-5 people
November 10th "Food" Themed
2nd Sunday Trivia Night 5:30 pm
December 8th "Cults" Themed
2nd Sunday Trivia Night 5:30 pm